20 New England Places to Visit in the Winter
New England is known for its beautiful beaches and ocean water in the summer, stunning foliage in the fall, countless places to ski and skate in the winter, and open spaces to enjoy the outdoors in the spring. If you're looking for indoor places in New England to explore this winter, we've got a list of fun indoor things to do with kids in Massachusetts, Connecticut, Rhode Island, Vermont, New Hampshire, and Maine:
1. Explore a museum and take a guided tour. Especially with art museums, I find my family learns so much more, and appreciate so much more, when we have a knowledgeable guide. The Cape Ann Museum in Gloucester, MA is the perfect example. We recently explored Gloucester (read our top 10 City Guide here) and had a guided tour of the museum, which has a children's room on the lower level. Our tour guide was so knowledgeable and pointed out the tiniest details in paintings to help us better understand the history of the area. The RISD Art Museum in Providence, RI features the artwork of current and former students and can be a great inspiration for budding artists. The Peabody Essex Museum in Salem, MA has a whole lower level devoted to children, with plenty of daily hands on crafts and guided activities. In Vermont, the Ben & Jerry's Factory tour and Vermont Teddy Bear Factory are super engaging for the whole family. In the winter months, most museums are quieter and afford visitors opportunities to get up close (but not TOO close) to the art work.
For two unique museum experiences, check out the Groton Submarine Force Museum and USS Nautilus in Groton, CT and the Whaling Museum in New Bedford, Massachusetts. The submarine base is 10 minutes away from Mystic (read our City Guide for Mystic here) and includes the opportunity to explore the submarine (watch your head!) which kids will love. The whaling museum has a replica ship inside the museum that everyone can explore (again, watch your head!). Read about City Guide for New Bedford here.
2. Test your sports trivia at a Hall of Fame. The Naismith Memorial Basketball Hall of Fame in Springfield, MA is not only filled with memorabilia from former players and historical timelines, but it also has tons of challenges to keep kids active and busy.  There's even a full size court in the middle of the complex! The International Tennis Hall of Fame in Newport, RI offers similar trivia and memorabilia from the tennis world, along with grass court visitors can use during the summer months. In the winter, spend more time filling out the scavenger hunt and finishing challenging quizzes on touch screens and tables. If you want other options outside of New England for sports halls of fame, check out our top 10 list here. 
3. Create your own masterpiece with a hands on lesson. Our favorite experience from last year was making our own glass blown ornaments at Thames Glass in Newport, Rhode Island. Definitely make a reservation ahead of time here as it's a popular thing to do. You can make vases and paperweights, and the company will ship your pieces home as they need a few days to cool. More ideas of things to do in Newport on our blog here and here.  The Vermont Teddy Bear Factory offers visitors the chance to make their own teddy bear to bring home.
4. Get a civics lesson by touring a state capitol. Each state in New England (and throughout America) offer free, guided (and often self guided) tour of the capitol building. It's one of our favorite things to do when we're in a new capital (check out our posts in Connecticut, Vermont, New Hampshire, Rhode Island, Massachusetts, Wyoming, Arkansas, Pennsylvania, New York). Tours usually last 60-90 minutes and are geared towards families with activities like scavenger hunts for children to complete while on the tour. Make sure to make reservations ahead of time as tours can sell out during popular travel times.
5. Check out National Parks sites, many of which are free to visit 360+ days a year. New England doesn't have quite as many sites as other parts of the country, but the sites we do have are pretty awesome. Make sure children grab a junior ranger program at each site so they can earn badges. We've visited the Springfield Armory NHS in Springfield, MA (so close to the Basketball Hall of Fame) for the history of machinery used in wars from the War of 1812 through World War II, Boston National Historic Park in Boston, for the history of the American Revolution (you'll need at least 2 days to explore all the sites in the park as they are located throughout the city- but still walkable), and the USS Constitution and Charleston Navy Yard in Charleston, MA (across the harbor) for the history of building navy ships in the 1800s and 1900s. The Minute Man National Historic Park in Lexington and Concord, Massachusetts has a Visitor's Center and several buildings with guides tours explaining the battles that began the American Revolution. The New Bedford National Whaling NHP has sites that showcase the history of the whaling industry and is very family friendly. The Roger Williams National Memorial in Providence, RI would be a quick stop, but a great way to learn about religious freedom in New England during the formative years of America. The Billings Farm and Museum and Marsh-Billings-Rockefeller National Historical Park is located in Woodstock Vermont is a great way to learn about local history and the farming industry.
I know this doesn't really qualify as INdoors, but I have to mention Acadia National Park in Bar Harbor, ME (the only official National Park in New England). Watching the sunrise at the earliest spot in the country is worth getting up super early, even in the winter. Do it at least once in your life. The park is guaranteed to be quieter in the winter months and there are manageable hikes for non-hikers. Read our full post on Acadia here.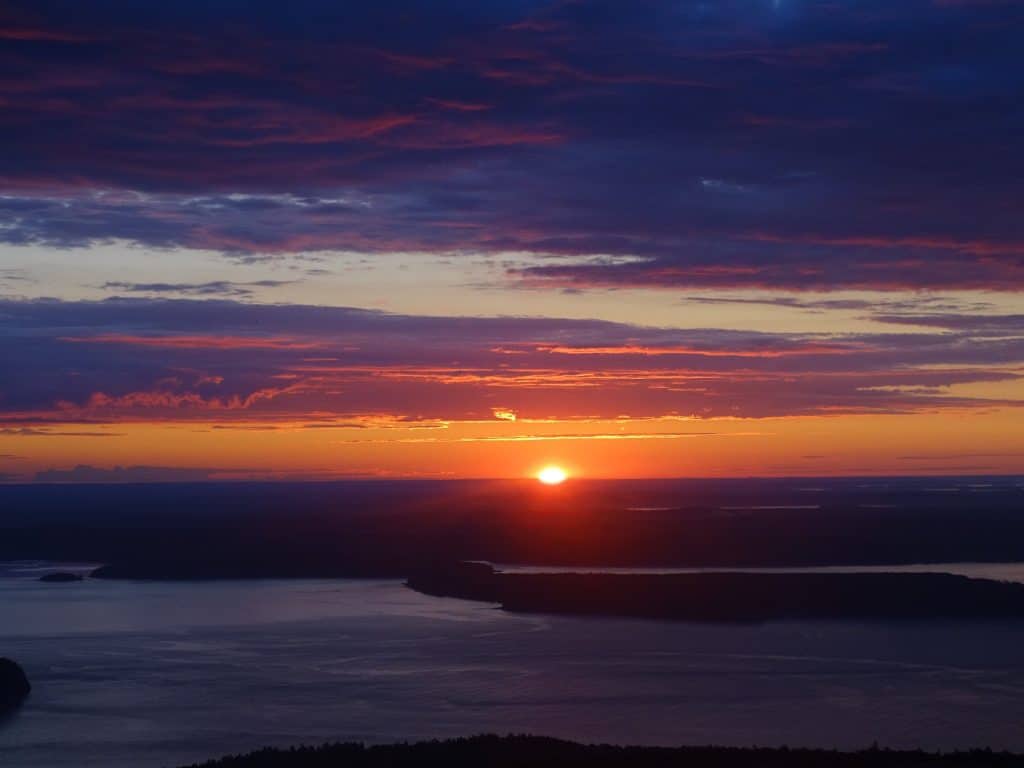 Bonus: Some of my most favorite spots to stay can be cost prohibitive (and often require a minimum one week stay!) during the popular summer months. However, in the winter, the prices are much more affordable and allow for 1-2 night stays. Here are my top picks:
1. Beauport Hotel in Gloucester, MA opened in 2016 and is right on the water with spectacular water views. Huge fireplaces in common areas and several options for dining on site means you might never leave the resort (but you should- so much to do in Gloucester! Check out my top 10 list here).
2. Newport Marriott in Newport, RI is located in the perfect location- steps from everything downtown (but quiet!!) and right on the water. The inside of the hotel is the most instagram-worthy one I have seen, and there are several dining options, plus a fitness center and indoor pool. I have stayed here for girls weekends, for a weekend away with my husband, and with my family and it's been a perfect stay every single time. Bonus: no parking fees in the winter!
3. Wentworth by the Sea in New Castle (steps from Portsmouth), NH will bring you back to a by-gone era- but with beautifully updated rooms and amenities. It's now a Marriott property (and my favorite one!) with a beautiful outdoor pool by the water. In the winter, the fireplaces are lit all day; there's a beautiful restaurant, spa, and indoor pool; and a great dockside path and trails for walking.
4. Water's Edge Resort and Spa in Westbrook, CT is located on the shoreline in the middle of Interstate 95 corridor. There are several options for resorts and spas in the area but Water's Edge has been my favorite for years (my husband and I even spent our wedding night there!). There are several housing options available (great for families), there's a private beach and a massive lawn leading to it (my kids love running up and down the lawn), indoor pool, and great spa tucked away upstairs- nice and quiet. The resort offers many packages during the winter months that include three course meals at the on site restaurant for virtually no additional money. Don't miss the Sunday brunch- it's my favorite and wins tons of awards every year.
5. The Samoset Resort in Rockport, ME has so many things to do all year long that you might not even leave the property (although you should, Rockport is a beautiful area). There's an award winning golf course and indoor and outdoor pools (zero entry for the toddler set!) in the summer, but in the winter, guests can enjoy a ton of outdoor snow sports like tubing and snowshoeing. Kids will love the daily activities at the Kids Club (included in resort fee) and parents will love the extensive spa.  Read our full post featuring the Samoset here.
6. Ocean House in Westerly, RI would still be a splurge (at least for my budget) in the winter, but there aren't as many night stays required and I promise it will be worth it. Everyone should visit the Ocean House at least once. The resort has thought of every.single.possible thing a guest could need or want to do. The rooms are so beautifully decorated, include so many thoughtful touches, and the views of the ocean and private beach are an added bonus. There are countless resort activities each day (so many geared towards families) and opportunities for enrichment with cooking and wine classes, workshops with local artists, and an amazing spa. There are several options for formal and informal dining on site, and special dining events for families.