Eight Tips for Exploring Storm King Art Center in New York with Kids
Our family enjoys visiting various art museums whenever we're in a new city (see an index of art museums we've explored here and reasons why you should bring kids to art museum here ) but we're usually accustomed to the traditional, indoor, stand-far-away-and-don't-even-think-of-touching-ANYTHING type of art museum. And then we heard about Storm King Art Center in New Windsor, New York (60 miles north of Manhattan, 50 miles from the Connecticut border, and in the heart of the Hudson Valley), and we knew we had found a "kid friendly" art center to explore.
Opened in 1960, the 500 acre space includes farm fields, woodlands, and over two dozen native and short grasses and wildflowers. The property is also home to over 80 species of birds, foxes, deer, groundhogs, chipmunks, cottontails, and turtles. But what Storm King is best known for are their over 100 outdoor large scale sculptures, commissioned art pieces, and indoor museum exhibits. Many of the outdoor sculptures are permanent, but sculptures rotate in and out or display and the indoor exhibits change at least once a year. The complex is named after Storm King Mountain in Cornwall-on-Hudson to the east of the property. Many of the views of the complex are of the state owned Schunnemunk Mountain State Park.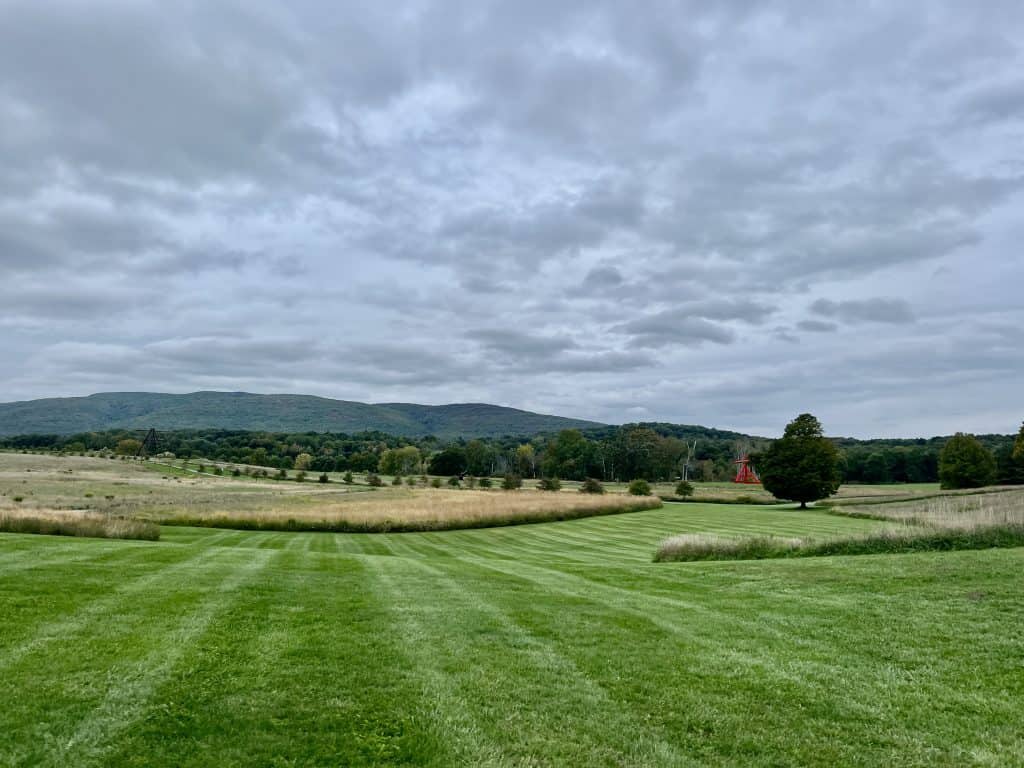 General Travel Tips:
Eight Tips for Enjoying Storm King with Kids:
Walking around the center: The paths around the grounds include grassy paths, stone paths, and paved paths. Some paths are hilly and steep (especially at parts of the North Woods and Maples Rooms), but many of them are considered flat. Storm King offers trams that run throughout the grounds and are wheelchair accessible. Complimentary wheelchairs are available in the Museum Building.  We highly recommend a stroller for the toddler crew. There is also an outdoor elevator located near the East parking lot and the Museum Building.
Biking around the center: Guests are welcome to rent bicycles, kids bikes, kids trailers, and strollers for the day. Guests may not bring their own bike, but may bring their own bike helmet. More information on bike rentals, stroller rentals, and pricing here.
Follow our (suggested) path: We parked at the South parking lot and picked up the trail there. We took the long loop around the South Fields and ponds, went uphill to the Maple Rooms, continued to the Museum Building (bathroom break!) and Museum Hill, headed down hill to the North parking lot, stopped for a picnic lunch, walked the North Woods (some of the steeper parts are on this part of the trail), walked back to Museum Hill (bathroom break!), and then walked down to the South parking lot. 
Grab a map and/or download the app: Make sure to grab a hard copy map when you check in at the entrance (many kiosks throughout the center also have copies). Tech savvy people might also enjoy the Digital Guide on Bloomberg Connect app that guests can download and scan at every sculpture to learn more about it. There are several large maps on display throughout the trails.
Eating/Picnicking while visiting: There are three dining options on site: the Outdoor Cafe (open everyday the center is open from 11am-4pm, the Cafe Cart (located on the back patio of the Museum Building and open on weekends selling mainly drinks and premade snacks), and weekend food trucks (located on the South Pavilion picnic area and open on weekends). All three locations have plenty of picnic tables, many of which are shaded (helpful in warmer summer months!) A good index for off property options can be found here.
Dress appropriately: Wear sneakers; walking the full property loop usually totals about 3.5 miles. Dress in layers during cooler spring and fall months. Definitely bringing bug spray and sunscreen in warmer spring and summer months.
Check for daily Children and Family Programs: Check the daily calendar for special events and programs, like guided tours and yoga; families will be especially interested in children themed programs, like Sunday art projects.  We enjoyed leaf stenciling on the day we visited. And make sure to ask for the Field Guide for Young Explorers.
Our favorite, kid friendly sculptures: Some of the most kid friendly sculptures (or, at least, the ones that seemed most engaging to our crew) include 

South Fields: Mermaid (#604)
Maple Room: Three legged Buddha (#502)
Museum Hill: Waiting for UFO (#214); Nyoka (#807); North, South, East, West (#201) fountain and sculpture; Crocodylus (#801); In Two Canoe (#803) the newest sculpture; 
North Woods: A Moment in Time (#103); Iliad (#304)
Look for other, nearby fun? Check out City Guide to Dutchess County, New York, which includes several spots less than 45 minutes from Storm King. And follow along on our adventures on Instagram, Pinterest, Facebook, and Twitter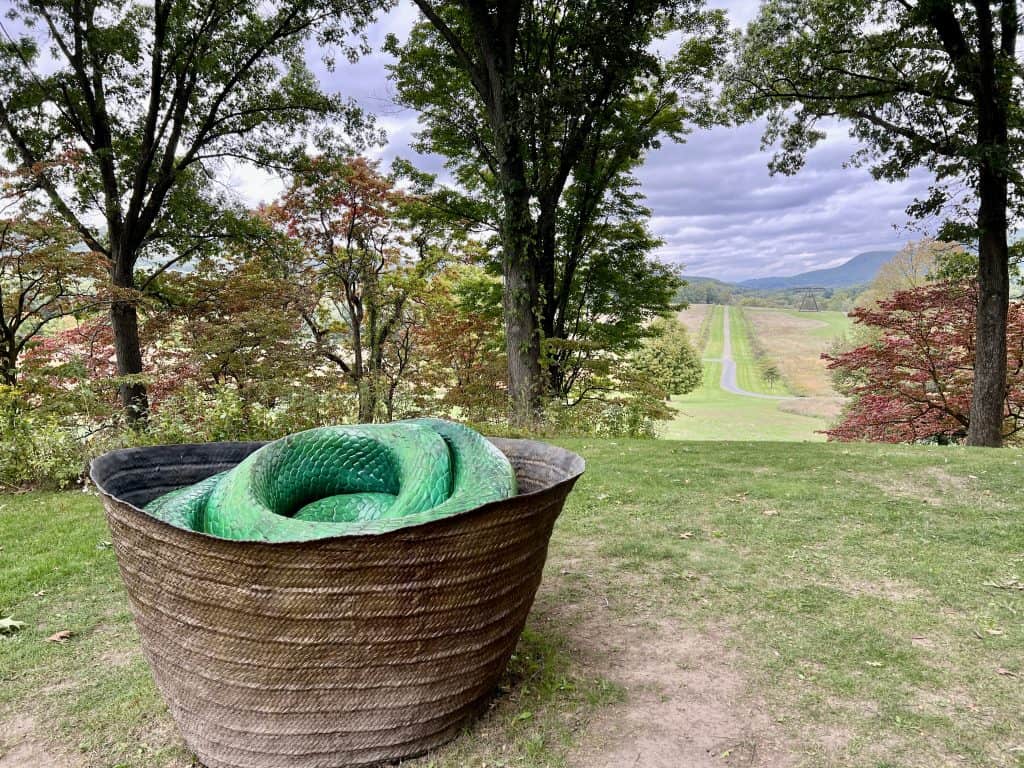 Disclaimer: My family was given a media pass to Storm King. All opinions expressed are my own.