10 Reasons to Love Smugglers' Notch Resort in the Winter (even if you don't ski!)
Smugglers' Notch resort in Jeffersonville, Vermont is well known for being one of the top ski resorts in America and routinely received accolades for being a top ski resort for families, a top New England fall destination, and one of the best adventure and vacation spots for kids. Known as "America's Family Resort", Smuggs is located less than an hour from both Montpelier and Burlington Vermont, and less than four hours from Hartford, Connecticut and Boston, Massachusetts. The three interconnected mountains have over 78 trails spread across 1,000+acres of slopes, bump runs, terrain parks, and race courses. Check out the trail map here and info on skiing and snowboarding here.
The resort name stems from the 1800-era smugglers who traversed the dense Vermont mountain ranges and the Long Trail (now called the Smugglers' Notch Pass) to bring English goods from Canada to America while trying to avoid paying the import taxes. In the 1900s, the same process was used to smuggle alcohol during Prohibition. Today, the Long Trail that goes through the Notch is open to hikers during the summer and fall seasons, but closed during the more treacherous winter months. (Smuggs averages 23+ feet of snow each year!)
Smugglers' Notch has grown from a two lift, one mountain ski park when it opened in 1956, to a three mountain and resort village in 1967, to the year round, 1,000+acre adventure filled resort it is today. Over the years, the resort has also added countless amenities making it an ideal destination for families year round.
There is SO much to see, eat, do, and experience at Smugglers' Notch even if you don't ski. We just spent an incredible weekend in the winter wonderland and could have stayed a whole week and still not seen and done everything. Good reference guides to the resort include this resort map, this (weekly updated) resort information guide, and the Explore Smuggs magazine. This week we are sharing 10 reasons we love Smugglers' Notch in the winter even though we're not a skiing family!
Note: We did visit on the coldest weekend of the year decade century and the resort chose to close some facilities and activities for the safety of guests and staff. We were unable to participate in some planned activities like snow tubing and a Cat ride, but we have it on good authority those adventures are super fun!
Ten Reasons to Love Smugglers' Notch in the winter (even if you don't ski!):
A home away from home: Smugglers Notch is home to 730 condos, ranging in size from 700 square foot studios to 2,000+ square foot five bedroom homes. Smaller studio, one and two bedroom condos are equipped with a kitchenette, all linens, living room, fireplaces, ski lockers, and access to shared laundry facilities. Larger condos have full kitchens, spacious bedrooms and bathrooms, all linens, laundry facility in house, ski lockers, and multiple fireplaces. Some of the condos are privately owned and can be rented through the Wyndham Club or on AirBnB, but many condos are available via the Smugglers Notch reservation office. We stayed in a spacious three bedroom Owls condo and loved the decor, full kitchen, and enclosed (and heated!) porch with views of Morse Mountain. See a full description of each of the five communities here, a map of condo communities here and information on reservations here.
Tons of dining options and plenty of sweet treats: The resort offers almost a dozen dining options sure to satisfy every budget and appetite (yes, even the pickiest of children!): Note: hours may change seasonally.

Morse Mountain Grille for full service breakfast and lunch (and dinner Friday through Tuesday) and a great children's menu. We enjoyed lunch here twice and could watch the skiers ski down Morse Mountain. (Village Center, open 8am-3:30pm every day, and for dinner Friday through Tuesday)
The Hearth & Candle for a delicious, locally sourced dinner (and a children's menu!) in a beautiful, cozy setting. We had a lovely dinner here one night and loved the fireside table. (Village Center, open Wednesday through Sunday for dinner)
Black Bear Tavern for yummy taverns food- think sandwiches, salads, soups, snacks, and a full bar menu (Base Lodge, open seven days a week)
Village Pizzeria for the best pizzas, salads, entrees, and a wide bar menu (Village Lodge, open Wednesday through Sunday in the afternoon and evening)
Refuel Cafe for quick service pizza, sandwiches, snacks, and drinks (Inside the FunZone 2.0 and open Friday evening and weekends from 12:30pm-8pm)
Green Mountain Deli and Cafe for quick service lunch, snacks, and drinks (Village Center open 10am-3pm everyday)
The Perk for ALL the hot and cold drinks, plus pastries and baked good (inside the Country Store)
Ben & Jerry's for their famous ice cream (Village Lodge, open Wednesday through Sunday afternoons and evenings)
Waffle Cabin for homemade waffles, hot and cold drinks (Slopeside near the Madonna II lift, open only Saturday-Sunday)
Bootlegger's Lounge for adults only (open Wednesday through Sunday for drinks and snacks and live entertainment)
If you do want to venture off property, here is a good index of local restaurants.
The most reliable shuttle to get around the resort (and even around town!): We typically prefer to drive ourselves, even on resort properties, so we're in control of our timing. However, the frigid temps during our visit forced our hand and we ended up taking a shuttle several times. We never waited more than five minutes. We were SO impressed by the shuttle and friendly drivers. Smuggs offers two resort shuttles (usually with 25 individual seats and a handicap accessible shuttle) to assist guests getting around the resort. The in-resort shuttle is an on-call service and operates between 8am and 10:45pm around the entire property.  The Upper Mountain Shuttle operated from 9am-4:30pm, bringing guests from the Village to the Upper Mountain.
The daily family competitions: The Meeting House and FunZone2.0 hosts daily family events like Jeopardy, Karaoke, Family Phew'd, bingo, and more. The staff is super engaging (check out Ron the Pirate, who leads Pirate Bingo) and there are often great prizes for the competitors. The preschool crowd will love weekly dance parties and special events. See the weekly activity sheet here and check the app for up to date schedules. There are also nightly entertainment options, like concerts and karaoke, and weekly fireworks on Thursday nights.
The year round water fun options: Smuggs has three pool complexes (with 8 pools) and two reservoirs open in the summer (see the list here), but they make sure that there are plenty of water options during the winter, too. The Courtside Pool, a short walk from the Village and open to all resort guests, includes a large pool with a four foot shallow end and nine foot deep end, and two hot tubs) is covered by a giant bubble in the winter. The North Hills Aquatics Center (a little further up the hill just before the FunZone 2.0) includes a zero entry shallow pool with water feature and small slide for the toddler crew and a four foot deep separate pool. Both complexes have changing rooms and restrooms and plenty of chairs. ****Be sure to bring towels with you.
The chance to get off the resort and explore the local area: The resort offers many collaborations with nearby businesses, including a daily jewelry making class at the Vermont Jewelry School (less than 10 minutes from the resort), dog sledding adventures with Alaskan Huskies at Eden Dog Sledding (in Eden Mills, about 30 minutes from the resort) and ice fishing tours (in Stowe, about 30 minutes way)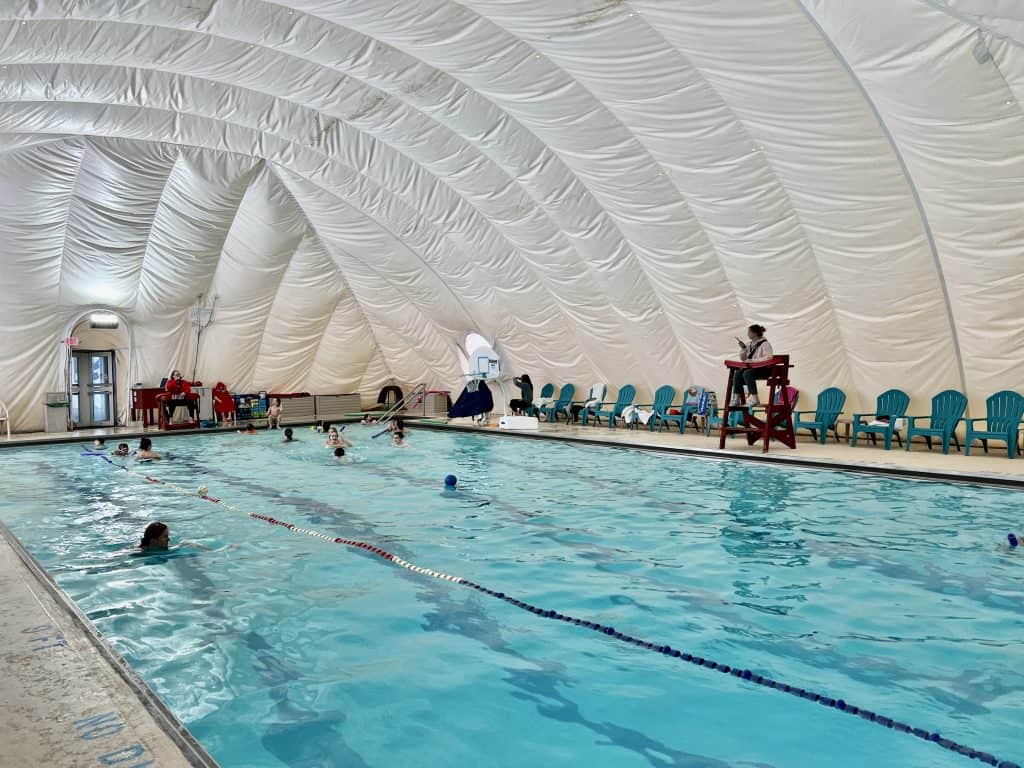 There are tons of ways to burn off energy inside the FunZone 2.0 Family Fun Complex: The center, located a short walk from the Village, includes several different areas that will engage kids of all ages. There are bathrooms located on the first floor, a prize redemption room on the first floor, an elevator for accessibility to the second floor, and the Refuel cafe for quick service meals and snacks. The FunZone2.0 includes:

The Arcade on the first floor: A 2,000 square foot arcade with 30+ games and multi level laser game course. **additional fee applies**
The GoZone on the the first floor: There is a ninja style obstacle course, thirty foot rock climbing walls (two walls, each with an easy, medium, and challenging path), and the Leap of Faith, a 30 foot self repelling tower and platform to jump out to a punching bag suspended in air. **additional fee applies**
The OZone located on the second floor (no shoes allowed- plenty of storage cubbies for shoes and winter apparel): There are four inflatables, inflatable ax throwing and basketball, table games (ping pong, shuffleboard, air hockey, table soccer), a six hole miniature golf course, and the Little's Loft for the under eight crowd (reading hooks, Lego station, pretend house, foam building blocks, and two bounce inflatables)
The party rooms on the second floor: Great for crafts, singalongs, and Pirate Bingo!
Teens will also enjoy The Alley Teen Center, located in the Village, which is open in the afternoons and evenings for video games, teen themed trivia contests, movies nights and outdoor bonfires. Note: Guests must have a Daycation ticket, SmugPass, or an Experience Pass in order to explore the FunZone2.0. There are also daily specials at FunZone2.0 with various promotions and discounts.
The Nordic Center: For the non-skiers who still want a good outdoor workout, the Nordic Center offers tons of daily options. There's ice skating on the rink in front of the center (a short walk from the Village), snowshoeing and cross country skiing on four different trails (ranging in length from 1.5 miles to 3.5 miles). The Nordic Center offers lessons and a variety of special programs and guided walks- check the daily report here (the Winter Survival Trek sounds especially cool!) Families will especially like the scavenger hunt through a half mile trail with seven stations and tasks to complete. Daycation passes and SmugPass include the experience, additional fee for equipment rentals. 
There are plenty of winter "thrill rides" on the hills and mountains besides skiing and snowshoeing, many of which include stunning views of the entire resort. Smuggs offers a sled building competition on Sir Henry's Learning Area, High Elevation Snowshoe Trek from the top of Morse Mountain, tube sliding (daytime at and nighttime glow tubing at Sir Henry's Learning Center), Fat Tire E-Bike Tours, and Snowcat rides (two evenings a week) with a guided driver who shares the history of the area and the resort. 
The chance to bring home a souvenir from one of the shops: There are a few options for shopping on property, including The Country Store (open all day and offering groceries and souvenirs like crafts, mugs, kids toys and stuffed animals, and local Vermont themed gifts- located next to the Guest Registration in the Village), Three Mountain Outfitters (open all day and offering ski and snow related apparel, swimwear, and footwear), and Smuggs Photos and Video (offering scheduled family photo sessions and ski and snowboarding videos- sign up here). Looking to purchase Smuggs themed gifts and apparel? Shop online here.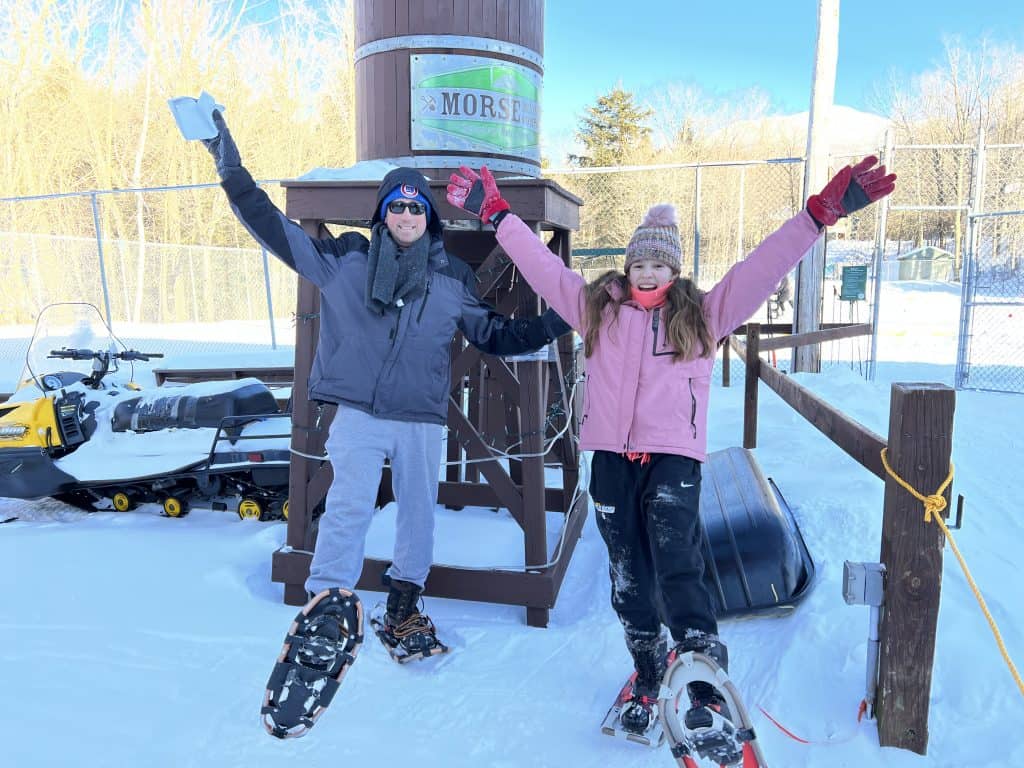 Reasons to return to Smuggs every season:
Spring: Considered the quieter time of year, spring is an ideal season to visit for guests who enjoy hiking, sports (basketball! volleyball!), swimming (two pools!), and ziplining. In case of bad weather, there's the indoor FunZone 2.0 Family Fun Complex (mini golf! Giant inflatable slides! Bouncy houses!)
Summer: Summer feels longer at Smuggs, with three months chalk full of outdoor sports (tennis courts, frisbee golf course, skate park, mountain bike park), tons of water activities (Water Wars, Lagoon Pirate Parties), a week day nature center, daytime contests (scavenger hunts, bingo, singalongs, trivia contest), nightly entertainment (concerts, comedy nights, karaoke, movie nights) and special events (Mountainside Block Party, weekly Farmers Market, Vermont Country Fair)
Fall: There is no more magical place in the fall than New England and no better spot to witness the magic of fall foliage than Smuggs. The resort offers e-bike foliage tours, farm and brewery tours, bonfire singalongs, and tons of musical performances.
Disclosure: Special thanks to Smugglers' Notch, who hosted our family for the weekend. All opinions expressed are my own.