The Paley Center for Media in Manhattan
First opened in 1976 as the Museum of Broadcasting, the Museum of Television and Radio changed names and moved to the heart of Midtown Manhattan in 1991, followed by another renaming and reopening as the Paley Center for Media in 2007 to honor William S. Paley. The owner of several prominent radio stations in the 1920s, William S. Paley created a larger network that became the CBS Network in the mid 20th century.
The Paley Center's collection includes 160,000 television and radio programs and advertisements from over 70 countries- the largest collection of television and audio media in the world. Paley The curated collection includes news, sports, performing arts, children's shows, documentaries, comedy shows, and even commercials dating back to the 1940s, all of which have been chosen for their "artistic achievement, social impact, or historic significance" according to the Center's website. The Paley Center also has a center in Los Angeles, California. Note: The Paley Center collects programming, not artifacts, so there are few physical items on display.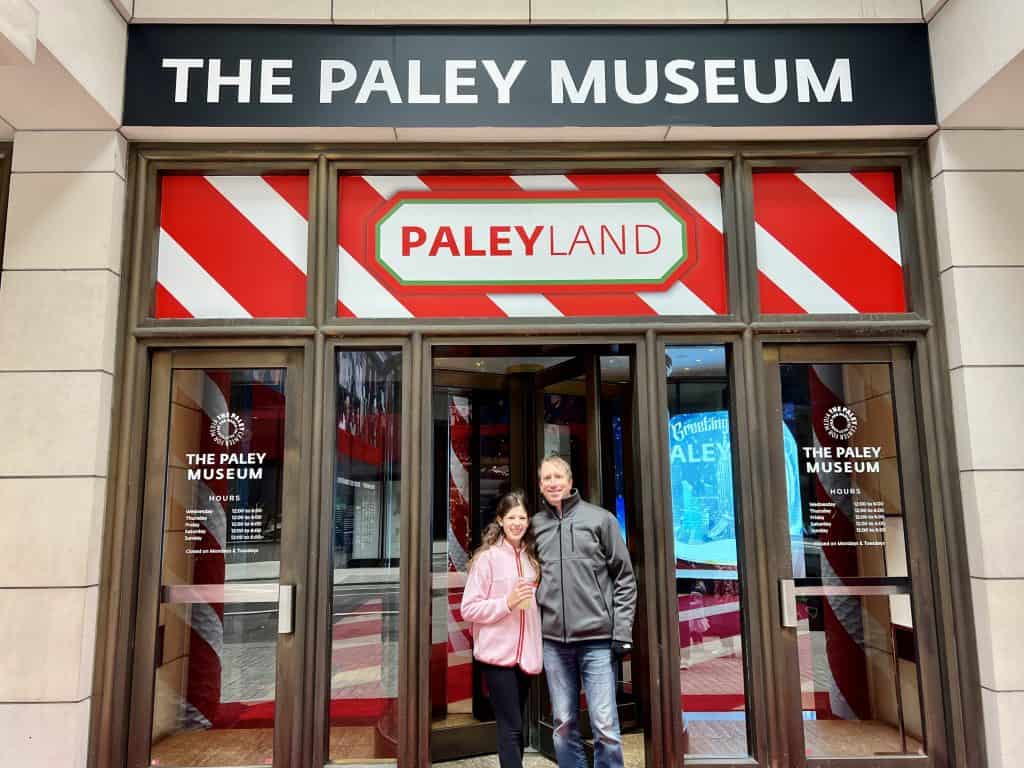 Travel Tips:
Five Spots to Explore at the Paley Center:
Fifth Floor at the GX Gaming Studio: Have a friendly "virtual" competition. The GX Studio has 20 individual stations that feature XBox Series X, PlayStation 4s, PS5, Nintendo Switch . There's also the VR room with Oculus beat saver and the ability to try out one of three VR games. After getting hooked into a set of goggles and hand sticks, players can experience a thrilling VR experience, including a Star Wars lightsaber simulation. Note: Additional fee applies
Fourth Floor Library: View one (or several) of the 160,000 programs from over 70 countries from the past 100 years of broadcasting. The Paley Center is home to the largest collection of television and audio media in the world. Guests can search for and watch up to 90 minutes of film at individual computer stations with headphones. Some of the most popular views are comedy specials and comedy shows (I Love Lucy ranks #1). There's also coloring stations for the younger (or young at heart) visitors. Be sure to take a peek at the display of radios and televisions dating back to 1949.
Second Floor and Concourse Floor Theaters: Watch a screening in either the 120+ seat Bennack Theater and the 60+ seat, second floor Goodson Theaters about 60 seats. Daily programming includes several family friendly features and can be found here.
Lower Concourse: The Dan Rather Gallery of portraits of famous past guests of the Paley Center. This space is also used during themed exhibits, which can change monthly or seasonally.
Rotating exhibits: When we visited, the popular holiday exhibit, PaleyLand, was on display. There are numerous photo opts, the Polar Express holiday train display, special holiday themed screening of films, and arts and crafts activities. There's hot cocoa on the ground floor. Check the calendar for visits with Santa, Rudolph, elves, and even a snow monster! PaleyLand typically runs from mid November through the first week of January. Other popular exhibits include Black Achievements in Television, and Anniversary Celebrations. Exhibits can change as frequently as every month so there is always something new to see at the Paley Center.
Looking for more family friendly adventures in New York City? Check out our index of posts here and follow along on our adventures on Instagram, Pinterest, Facebook, and Twitter.
Disclosure: My family was given a media pass to explore the Paley Center. All opinions expressed are my own.