Five U.S. Travel Books Kids Will Love
Our children have always enjoyed reading and will spend hours a day reading, no matter where we are. Fortunately, they can read in the car and we often make a big Barnes and Noble order before a road trip. And while they mainly stick to fictional series, they do like to take a break for a puzzle or a game, or ask us trivia.
This week, we're sharing some of our favorite travel books. You'll notice a common theme of the National Park system, one of our favorite destinations on any road trip. (You can read about some of the dozens of posts featuring National Parks and National Park service sites here). And be sure to check out the special giveaway at the bottom of the post.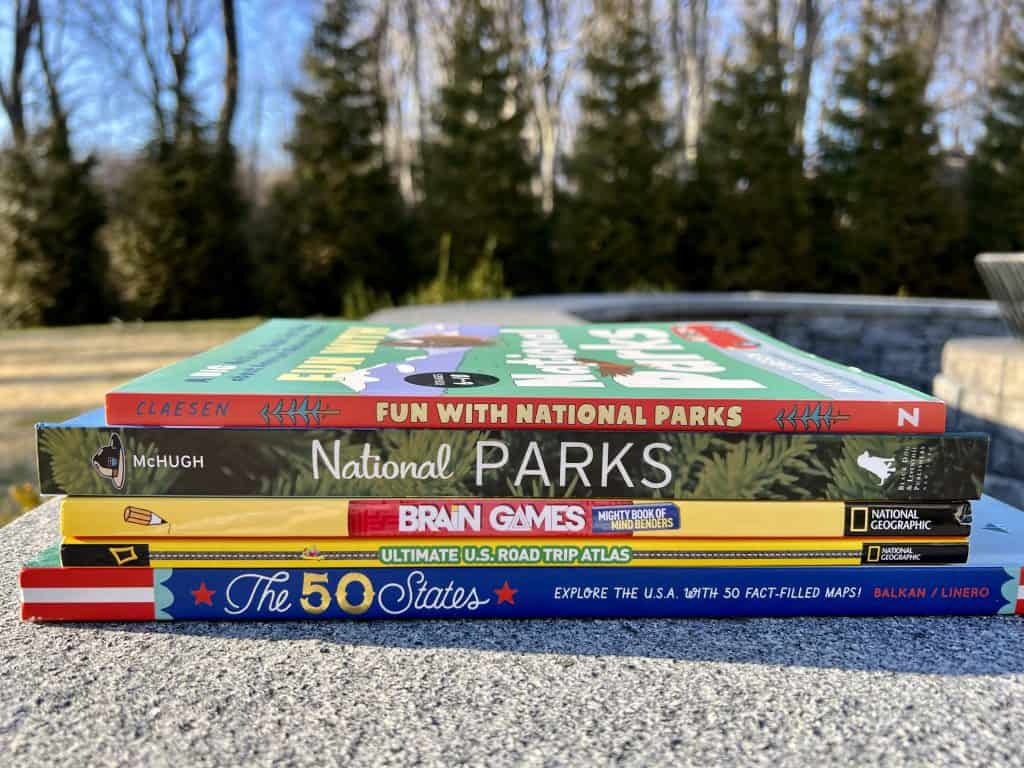 Five U.S. Travel Themed Books Kids Will Love:
Fun with National Parks (Nicole Claesen, 2023) and National Parks: A Kid's Guide to America's Parks, Monuments, and Landmarks (Erin McHugh, 2012, updated 2019) both offer tons of information and trivia about America's 63 National Parks. Fun with National Parks is an activity book; 150 pages filled with crossword puzzles, coloring pages, word searches, connect the dots drawings, and trivia quizzes. The book is organized by region and is perfect for kids 6-10, although I'll confess I was challenged by more than one page! (There is an answer key in the index!) National Parks is also geared towards kids, but is organized by state and is more of a souvenir book. In addition to National Parks, the book includes historic parks, monuments, forests, and preserves. Each spot gets its own page with historical background, statistics, and cool ranger facts. Bonus: there is a cardboard inset for the "America the Beautiful Quarter Collection" on the back of the book.
National Geographic's Ultimate US Road Trip Atlas comes out with a new version every couple of years with revised stats and trivia. The book is organized alphabetically by state and includes a large map of the state, a "five cool things to do here" section, and unique roadside attractions (so many unique places we've never heard of!) Everyone will get a kick out of each state's "traffic laws that you won't believe!!" The back of the book includes scavenger hunts, trivia games, and I Spy picture searches.
National Geographic Kids Brain Games is a whole series with themes such as science and Masterminds. The book is organized with chapters that include memory challenges, word play, spatial games, and brain mysteries. We especially like that some of these challenges can be verbalized to the driver or other passengers to solve without having to look at the pages.
The 50 States (Gabrielle Balkan, 2015) is a beautifully illustrated book, alphabetized by state. Each state includes a map with geographical highlights hand drawn. There are short bios of famous natives, as well as "Moments to Remember" and key trivia facts. The back of the book includes information on the presidents and a rendering of each state's flag. Note: This book is significantly larger than most books. We tend to leave it under the seat, where it fits, and pull it out during a road trip.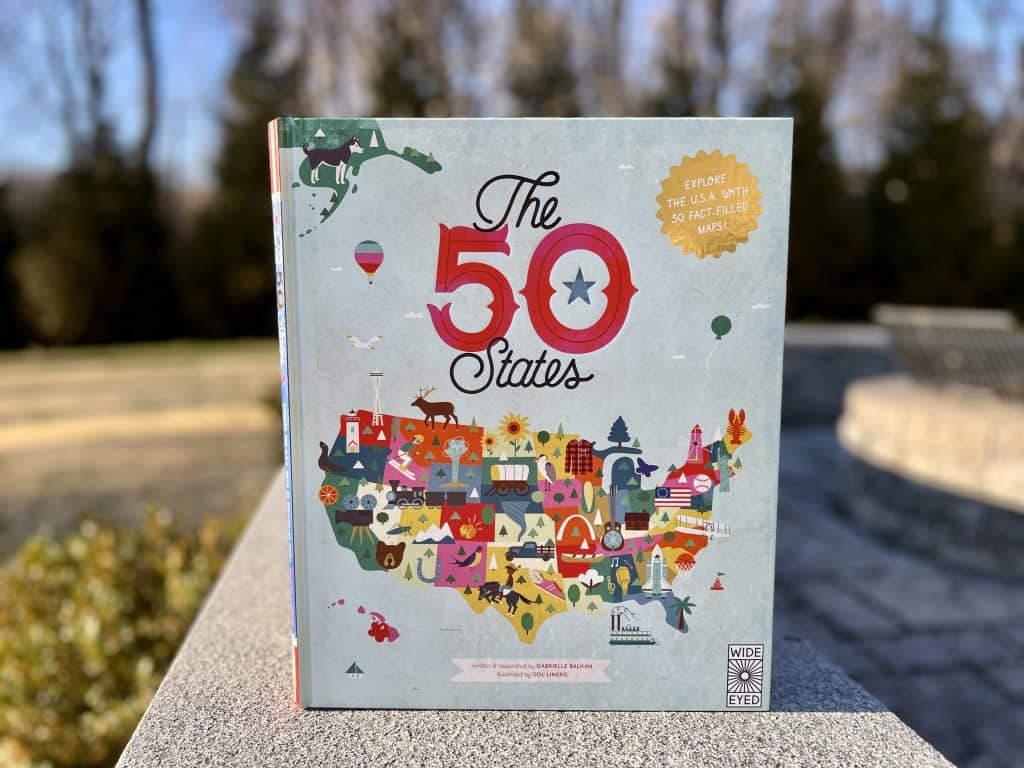 Bonuses: Of course, there is always the favorite word search, cross words puzzles, and Sudoku books to keep kids of all ages busy.
We were gifted a copy of Fun with National Parks by Nicole Claesen and would love to gift it forward to a family who loves National Parks as much as we do. To enter to win, please follow us on Instagram and Facebook and leave a comment on either post featuring the book. We'll draw a winner from all the comments on April 3, 2023. Note we can only ship to the continental United States.
Disclosure: We were gifted copies of Fun with National Parks and National Geographic Kids Brain Games. All opinions expressed are my own.