18 Ways to Have Fun at The Montshire Museum of Science in Norwich, VT
On a recent trip to Woodstock, Vermont, one of our first stops was the Montshire Museum of Science, located in nearby Norwich. I had heard many positive things about Montshire from other bloggers, and the museum did not disappoint. The four floors of indoor museum exhibits are light and open and we were shocked to learn that the current space opened in 1989- we swore it must had been recently renovated because it looked so updated and clean.
Travel Tips:
Our Top 10 Favorite Ways to Explore the Indoor Exhibits:
Surround yourself in giant bubbles. Bubbles: Science in Soap (1st floor)
Examine rock and wood specimens under a microscope and have an up close view of native fish, frogs, and turtles. Life in Local Water (1st floor)
Attempt to count the leafcutter ants (save plenty of time- we predict there are millions!). Discovering the Natural World (1st floor)
Pedal the stationary bike in the hopes of powering the elevator. (1st floor)
Test your puzzle solving skills with 10 different brain teasers like tangrams and algorithms. Solve It! (2nd floor)
6. Experiment with the physics of gravity. Discovery Lab (2nd floor)
7. Keep the beat playing the drums or accordion and learn how they are made. Making Music (2nd floor)
8. Race multicolor poofs in a massive airways display. Airworks (2nd floor)
9. Bend lights to Lights Around Us (3rd floor tower room)
10. Take in the views of the Connecticut River from the 5th floor outside observation deck
Bonus: The toddler crew will LOVE their own dedicated space, Wonder Woods, filled with smaller, padded climbing structures, and a book nook.
Eight Outdoor Adventures at Montshire Museum of Science:
While we couldn't explore most of these trails to due cold, icy conditions, we've read really good feedback about the fun outdoor trails and summertime activities located throughout the 100 acres of woodlands
The Play Grove, filled with a variety of interactive centers including Ribbon Room, Gnome Homes, Willow House, hammocks, swings, and more!
Meadow Walk, a short .3 mile trail in the Quinn Nature Preserve that is wheelchair and stroller accessible.
River Loop, which follows the Connecticut River with several viewing points
Planet Walk, a three mile round trip trail that showcases all nine planets with large interactive displays and placards.
Ridge Trail, a one mile trail that explores the geology of the North Woods.
Woodland Gardens, the shortest path and closest to the museum building. The path follows a collection of native plants and has several benches to rest wary feet.
Blood Brook Trail, a short .4 mile trail that features an exhibit on stonewalls, the Animal Signs kiosk (can you guess the animal tracks?), and a deck overlooking the lagoon entrance.
David Goudy Science Park, with the 250 foot watercourse The Rill and exhibits on light, sound, motion, and natural history. Note: only open May through October.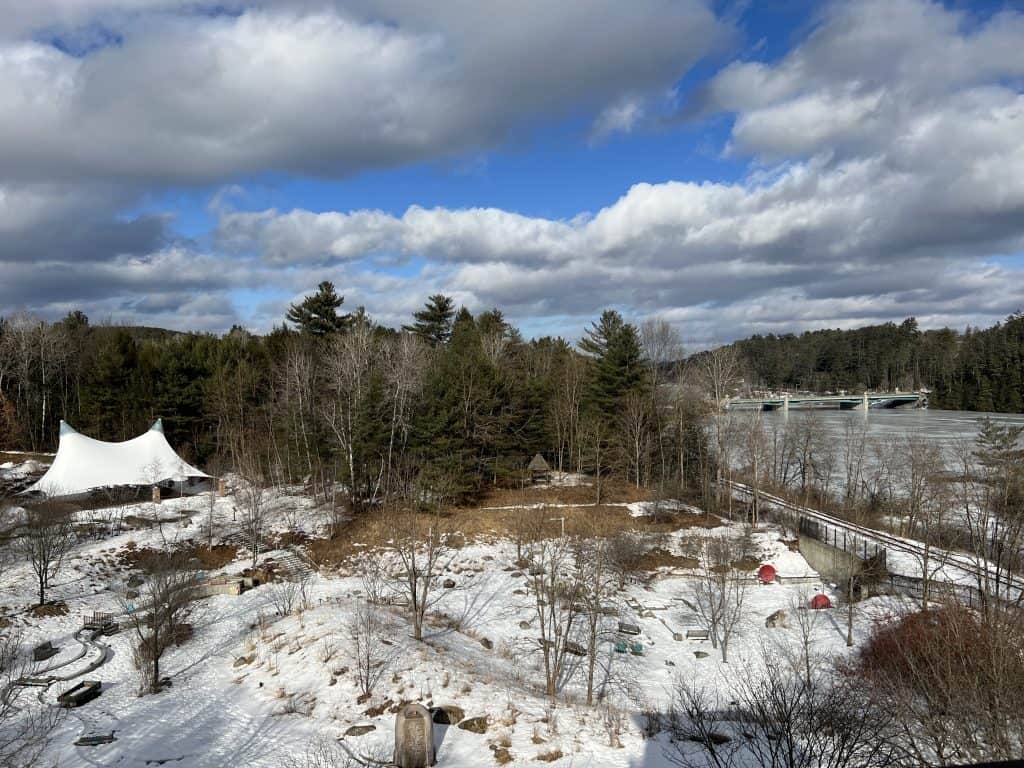 Looking for more fun in Woodstock? Check out our full Woodstock City Guide, our dining guide to Woodstock, and our post featuring the VINS Nature Center. And follow along on Instagram, Facebook, Twitter, and Pinterest.
Disclaimer: Our family received a media pass to explore the museum. All opinions expressed are my own.