13 Places to Hike in Connecticut for National Take a Hike Day
This coming Friday, November 17th is National Take a Hike Day and while we wouldn't label ourselves big hikers- we use the term "hiker" loosely- we have come to love getting exercise while enjoying the beauty of nature and fresh air. During the pandemic, and since then, we have explored many of Connecticut's state parks; you can read about the many reasons we love state parks in this post. Connecticut's Department of Energy and Environmental Protection oversees 142 state parks, forests, and beaches sprawled across a quarter million acres. There are SO many hiking trails and paths to explore, but over the years, we have returned to a few areas that are super kid friendly.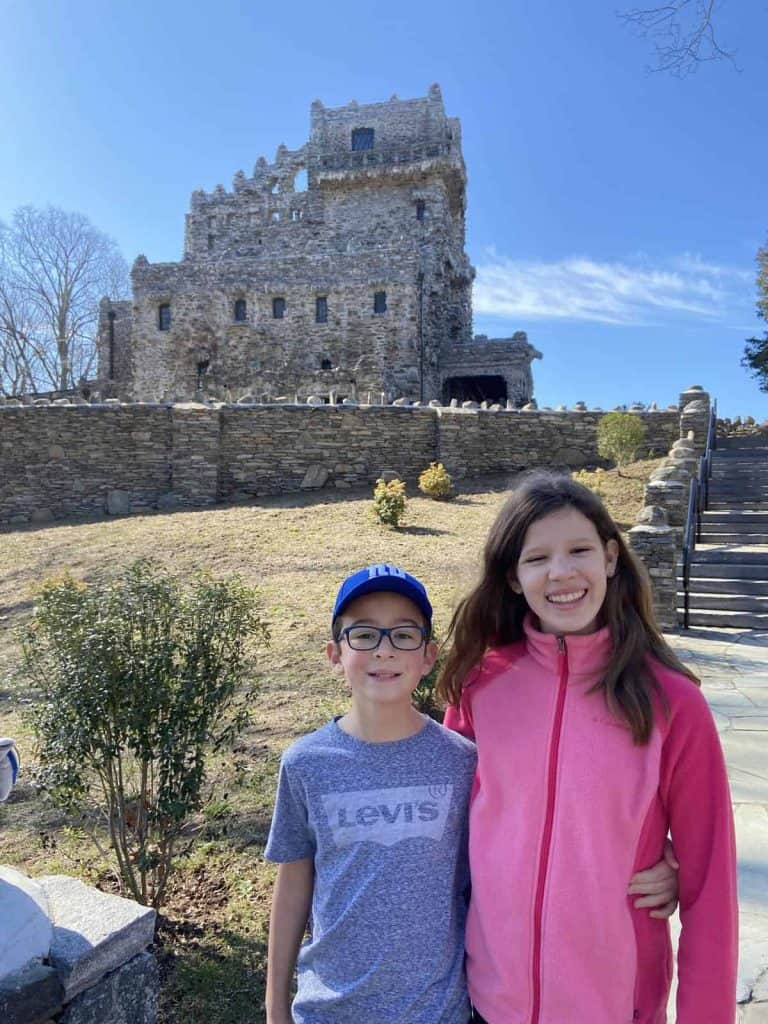 You'll notice that every location on this list (and in our full posts on hiking throughout Connecticut) has a few common elements:
Most locations are free to visit with a car registered in Connecticut (all state parks are free for cars registered in Connecticut) or have a nominal cost.
Most trails at each location are in the a two to four mile range, with little or medium range elevation change.
The trails are well marked and have accessible maps online and on apps.
There are unique features, like waterfalls, streams, vast views, or old historical ruins.
Each location has various facilities like Visitor Centers, staff on site (depending on seasons and hours) plenty of parking, and some locations have indoor restrooms.
Our Top Recommendations for Hikes throughout Connecticut:
Bartlett Arboretum in Stamford has dozens of gardens and shorter trails throughout its 93 acre complex. Several of the trails have raised wooden plank paths (but no side rails, so hold on to the toddler set closely!). Make sure kids fill out the scavenger hunt!
Unique feature: Besides the raised plank paths, kids will love the small playground and wooden musical instruments in the middle of one of the paths and the sensory garden. There is also the Silver Educational Center, open during the week.
Trail map here
Fairfield Center at Connecticut Audubon in Fairfield is a 150+ acre space with six ponds, streams, swamps, and meadows, with seven miles of trails. The trails have tons of signs and background information, and several trails have raised wooden plank paths.
Unique feature: The indoor museum exhibits feature live reptiles and amphibians, and an outdoor Birds of Prey exhibit (with owls and hawks).
Trail map here
Putnam Memorial State Park in Redding is known as "Connecticut's Valley Forge" because it is the site of the 1778-1779 winter encampment of General Israel Putnam's troops during the American Revolutionary War. The memorial park was built on the actual site of one of the camps and many remains are marked with signage, including the the Putnam Memorial Monument (built in 1888 and 42 feet high); Officers Hut, Barracks and Magazine, and Quarters; and the Guard House.
Unique features: There are hiking trails on either side of Route 58. The Putnam Pike side 1.25 mile gravel loop that showcases the historic remains.
Trail map here
Hidden Valley Preserve in Washington Depot is a 700 acre park of forest, meadows, with an abandoned quartz mine and 17 miles of trails.
Unique feature: Two bridges (The Thoreau Bridge is a cabled footbridge over the Shepaug River) and the Lookout, a terrace that offers views of the valley.
Trail map here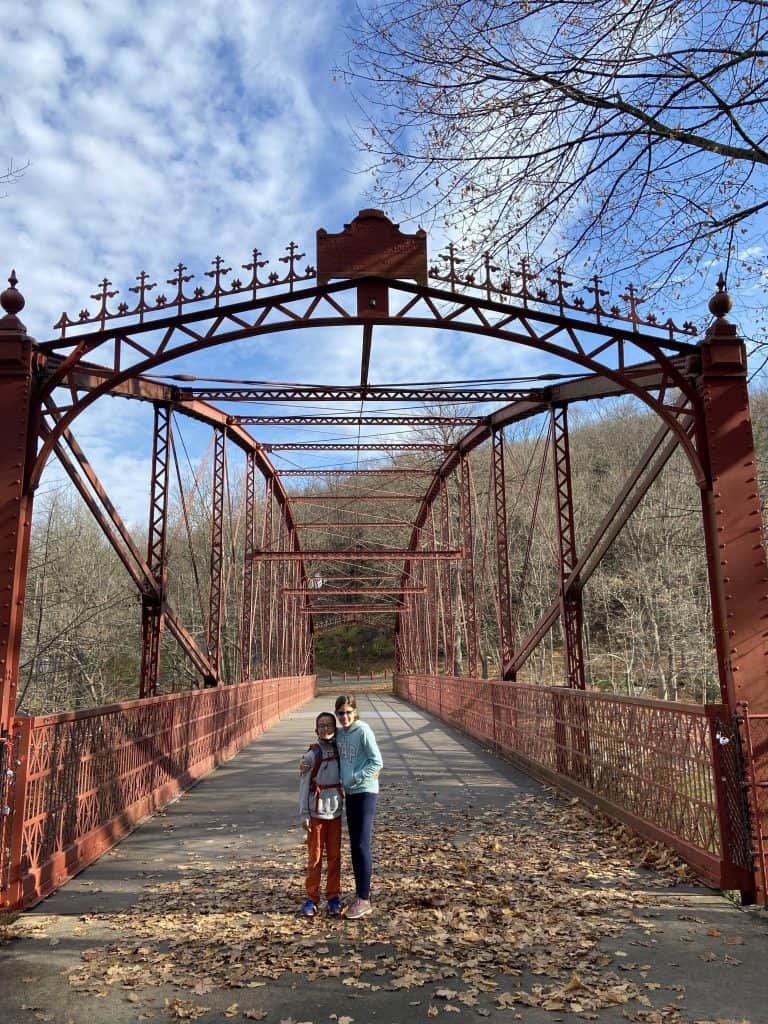 White Memorial Conservation Center in Litchfield is spread over 4,000 acres and includes a museum, gift shop, 35 miles of trails, wetlands, and water features (including an old ice house!). The trails are perfect for younger children!
Unique features: The Trail of Senses, Interpretive Nature Trail, and Ice House Ruins Trail all have interactive exhibits and cool things to see. The Little Pond Boardwalk loop (a super short drive from the Center) is a 3 mile loop trail that includes several platforms and bridges.
Trail map here
Kent Falls State Park in Kent is one of the spots on this list that does have some elevation on their short trails, which follow along the 250 foot drop fall. Strollers aren't allowed on the paths, so consider this park more appropriate for older kids.
Unique features: A covered bridge, the huge waterfalls, and plenty of space for picnicking and even impromptu sports games.
Trail map here
Lovers Leap State Park in New Milford has a massive river google and five miles of trails. The park is named for Pootatuck Indian Chief Waramaug's daughter who, along with her lover, plunged to their deaths in the 1700s. There is access for canoes and kayaks to Lake Lillinonah near the end of Lovers Leap Road and visitors are also able to fish and picnic.
Unique feature: The red bridge hikers must cross to access the trails- lots of people have taken to leaving a lock on the siding of the bridge; the hidden mailbox and journal on the Waramaug Loop.
Trail map here
East Rock Park in New Haven has over 10 miles of trails throughout its 425 acres. The top of the park has great views of Long Island Sound and the Soldiers and Sailors Monument honoring New Haven soldiers who died in the Revolutionary War, War of 1812, the Mexican War, and the Civil War. Visitors can climb to the top of the monument to the observation deck.
Unique feature: Besides the monument, the park is home to athletic fields, the Trowbridge Environmental Center (which showcases the flora and fauna of the park) and the Pardee Rose Garden and Greenhouse (blooming with flowers from early spring through fall).
Trail map here
Talcott Mountain State Park in Simsbury has three trails that all lead to the Heublein Tower and offer vast views of central Connecticut.
Unique feature: The Heublein Tower, a former summer home, is open from late spring to early fall.
Trail map here
Southford Falls State Park in Oxford and Southbury was once the site of the Diamond Match Company. The almost 170 acre park has several trails that loop around the falls.
Unique feature: Besides the waterfalls, there is also the Fire Tower at the top of a two mile hike, and areas for picnicking.
Trail map here
Gillette Castle State Park in East Haddam offers short hikes, all under two miles, with great views of the Connecticut River and plenty of places to picnic.
Unique features: A 24 room mansion open to the public for tours during peak summer season; Visitor Center and Cafe concession open during the same season as the castle.
Trail map here
Bluff Point State Park in Groton is an almost 800 acre reserve with several water features: the Poquonnock River, Bushy Point Beach, Mumford Cove, and salt marshes. The hiking trails have great views of Long Island Sound.
Unique feature: There are still remains of some of the summer cottages that were destroyed in an infamous hurricane in the 1930s.
Trail map here
Harkness Memorial State Park in Waterford is a 230 acre complex that includes a mansion (open for tours in the summer); a stable, greenhouse and carriage houses; and plenty of gardens and orchards that thrive during warmer months. There are walking (not really strenuous hiking) trails on the grounds with beautiful views of Long Island Sound.
Unique feature: the boardwalk to the Niering Preserve at Goshen Cove with several signs exploring the geology of the area.
Trail map here
You can see our full lists in our posts featuring hikes in Fairfield County, hikes in Mystic County, hikes in Western Connecticut, hikes in Central Connecticut, and our favorite hiking supplies.
And follow along on all of our adventures on Instagram, Facebook, Pinterest, and X.