Isabella Stewart Gardner Museum in Boston, MA
A New Yorker married to a Bostonian in the late 1860s, Isabella Stewart Gardner and her husband, John, travelled extensively and were inspired by the art they saw throughout the world. Gardner began collecting art and built a home, which she named Fenway Court, in Boston in the early 1900s. Today, all three floors of the Palace, as it is now referred to, are opened to the public, as part of the Isabella Stewart Gardner Museum. Some of Gardner's collection of 7500 pieces of art, 1500 books, and 7000 artifacts are on display throughout the Palace and the new Renzo Piano Wing, which houses a reception area and services, administrative offices, Calderwood Hall, Bertucci Education Studio, the Living Room, Cafe G, and museum store.
Travel Tips:
The museum is closed on Tuesdays. Check here for hours and other admission information. Information about daily tours and talks can be found here.

Children (under 18 years old) and anyone with the name Isabella receive free admission to the museum every day!

Wear sturdy shoes; parts of the Palace are cobblestone or uneven. A free coat check is available at the entrance to the museum; guests who do not check their coats must wear them and wear backpacks in the front. Lockers are located on the lower level of the Renzo Piano Wing.

Single strollers are allowed in the museum (no doubles) and the museum has a limited supply of tandem strollers for loan- available at coat check and free! The entire museum is handicap accessible.

An audio tour is available for purchase at the admission desk, and is also available for free through the museum website here. A gift shop is located across from coat check.

There is limited free and metered parking on the street. The Simmons School of Management Garage (on Avenue Louis Pasteur) offers discounted parking for museum guests. Check here for more information on parking and directions.

Cafe G offers snacks, drinks, and lunch options and plenty of seating. Menu information here. Note: the restaurant is only open from 11am-4pm, except on Thursdays when it is also open from 5:30-9:30pm for Thursday Wine Bar.
10 Things to Do at the ISG Museum:
1. Visit the Bertucci Education Studio on a Saturday for a hands on art project. On the day we visited, guests were able to make their own crayons.
2. Grab a family guide from the Info area at the Living Room.  It offers several personal anecdotes about how Gardner acquired pieces in her collection.
3. Collect the variety of "Eye Spy" activity pamphlets for various parts of the museum.  Each pamphlet includes activities and partial images from paintings throughout the museum. We had a friendly competition to see who could find more paintings throughout the Palace. Bonus: part of the trifold breaks off as a postcard children can mail to family and friends.
4. Read a children's book, or art book, in The Living Room which has hundreds of books related to the art featured throughout the Palace.
5. Stand UNDER one of the enormous fireplaces in the home. There are over a dozen in the Palace and many of them are over five feet tall.
6. Choose a favorite tapestry from dozens hanging throughout the house; most of them are over 15' tall and 20' long.
7. Sketch your own version of something displayed in the Palace. Grab a sketch card and supplies from docents stationed throughout the Palace.
8. Read the room cards. Each room has large, laminated cards with information about every piece of art, furniture, and tapestry in the room (usually divided by "wall")
9. Attend a performance in Candlewood Hall. The 300 seat Hall is shaped like a cube; with four levels of seating, almost every seat is a front row seat! There are several Thursday night and weekend music series, as well as other special events. More information and a calendar here.
10. Explore the grounds. During warmer weather months (we'll be back during the summer for sure!) guests can walk through the McGee Greenhouse and Lynch Garden. There are even workshops devoted to landscape architecture and gardening.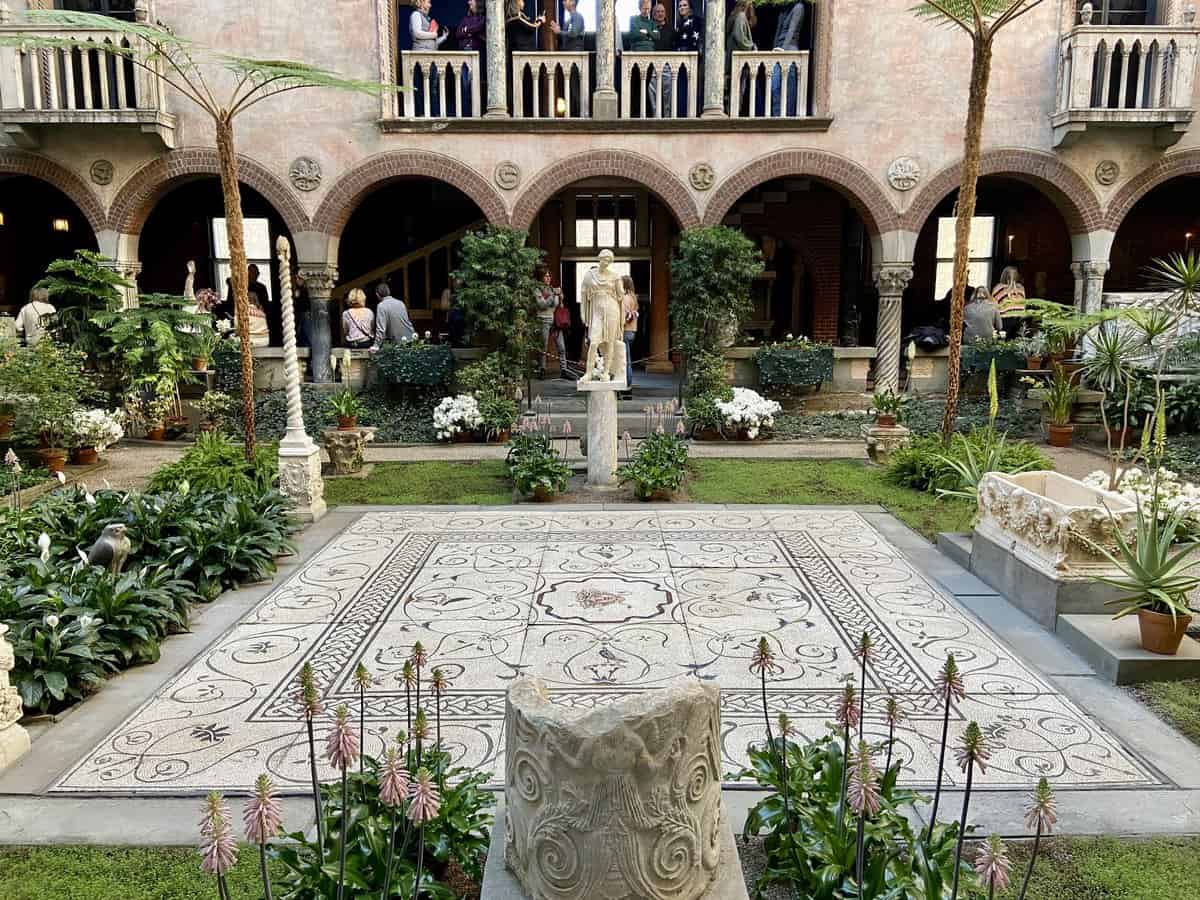 For 10 reasons why you should bring kids to art museums, check out our adventures at the Guggenheim in New York City. And read about our adventures at the:
Looking for more fun in Boston? Check out our adventures at the Boston Tea Party Ship and Museum, the Boston National Historical Park, the Charlestown Navy Yard and USS Constitution and Museum, Massachusetts State House, and Legoland Discovery Center.
Disclaimer: My family was given a media pass to visit the museum. All opinions expressed are my own.